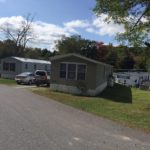 NEWS RELEASE 
FOR IMMEDIATE RELEASE
Contact: Jonathan Bond, 802-660-3455×105,  jbond@cvoeo.org
"With the motivated resident leaders that these two parks have, we have seen success in the cooperative model throughout Vermont, New Hampshire and elsewhere. Cooperative ownership can lead to improved quality of life and maintain the long-term affordability for the park's residents. It creates thriving communities where residents can continue to own their home, collectively own the surrounding land and prosper." 
St. George & Hinesburg, VT – A coalition of two mobile home park cooperatives of St. George Villa MHP and Sunset Lake Villa MHP are working feverishly to purchase their respective parks from private ownership and have put forth their best offer to purchase the parks. At a public meeting Wednesday, December 13, 2017, residents heard from their cooperative board's terms of making an offer, including the engineer's inspection report and property appraisal completed with financial support from the Vermont Housing and Conservation Board.  The best initial offer the cooperative can make will be limited to the appraised value they've received of $6,025,000.00; this is well short of the current asking price registered with the State of Vermont for the two parks of $6,950,000.00.
With the motivated resident leaders that these two parks have, we have seen success in the cooperative model throughout Vermont, New Hampshire and elsewhere. Cooperative ownership can lead to improved quality of life and maintain the long-term affordability for the park's residents. It creates thriving communities where residents can continue to own their home, collectively own the surrounding land and prosper.
Residents, knowing it's a long shot for the owner to accept their offer are still proceeding for their once in a generation opportunity to bring their park out of private investors hands and under the control of the residents who live there. Residents thus far have been successful in exercising their petitioned rights under Vermont law, allowing them up to 165 days to make an offer. They know it is an uphill battle with potential outside bidders willing to offer significantly more.
CVOEO's Mobile Home Program providing residents support about their rights under state law and the Cooperative Development Institute providing technical purchase, and cooperative management assistance will continue to stand with residents through this process. A process we have seen the first-hand transform the lives of the residents living cooperatively owned communities
The coming days and weeks will tell if the resident's offer will be accepted. In making the offer, the resident cooperative is willing to raise their current lot-rents now so they can see their money reinvested into the resident-owned land to keep long-term affordability. The long-term affordability is particularly important given that Vermont and specifically Chittenden County struggles to provide adequate, affordable housing supply to its residents. Under new private ownership, it's most likely they will also see lot-rents increased for investor gain. We are hoping the informed and responsible offer made by residents will prevail.
###